About us
Our quality brand
We process, package and produce food under the registered trademark ARAX, which has been synonymous with quality and healthful products at a reasonable price for several years.
In the interest of food quality and safety, we adhere to the system of critical points in production (HACCP), quality control of raw materials at the input and output, and we cooperate with the food chemistry laboratory at the State Veterinary Institute Prague (SVÚ Praha), thanks to which we ensure a reliable high quality standard.
The purpose of our company
To offer people quality products with the best value for money, easily accessible to the widest possible range of customers.
To promote a healthy lifestyle and strengthen the vitality of all of us and future generations. Our motto is "eat well, live well".
Assortment of goods Wholesale
The assortment includes many types of healthy prodcts and goods, such as rice, legumes, beans, cereals, gluten-free flours, spices and other ingredients indispensable in the kitchen. We buy raw materials in mostly conventional quality (i.e. non-organic) in the Czech Republic or we import them from all over the world. Our goods come from selected processors in Ukraine, Russia, Canada, Thailand, Vietnam, Italy, Argentina, Pakistan, the Netherlands, Finland and others. Diversifying our sources allows us to provide competitive prices and carefully selected quality goods.
If you would like to cooperate with us, please contact our sales department. We will assist you with maximum effort and dedication to reach a successful and satisfying result.
We look forward to hearing from you!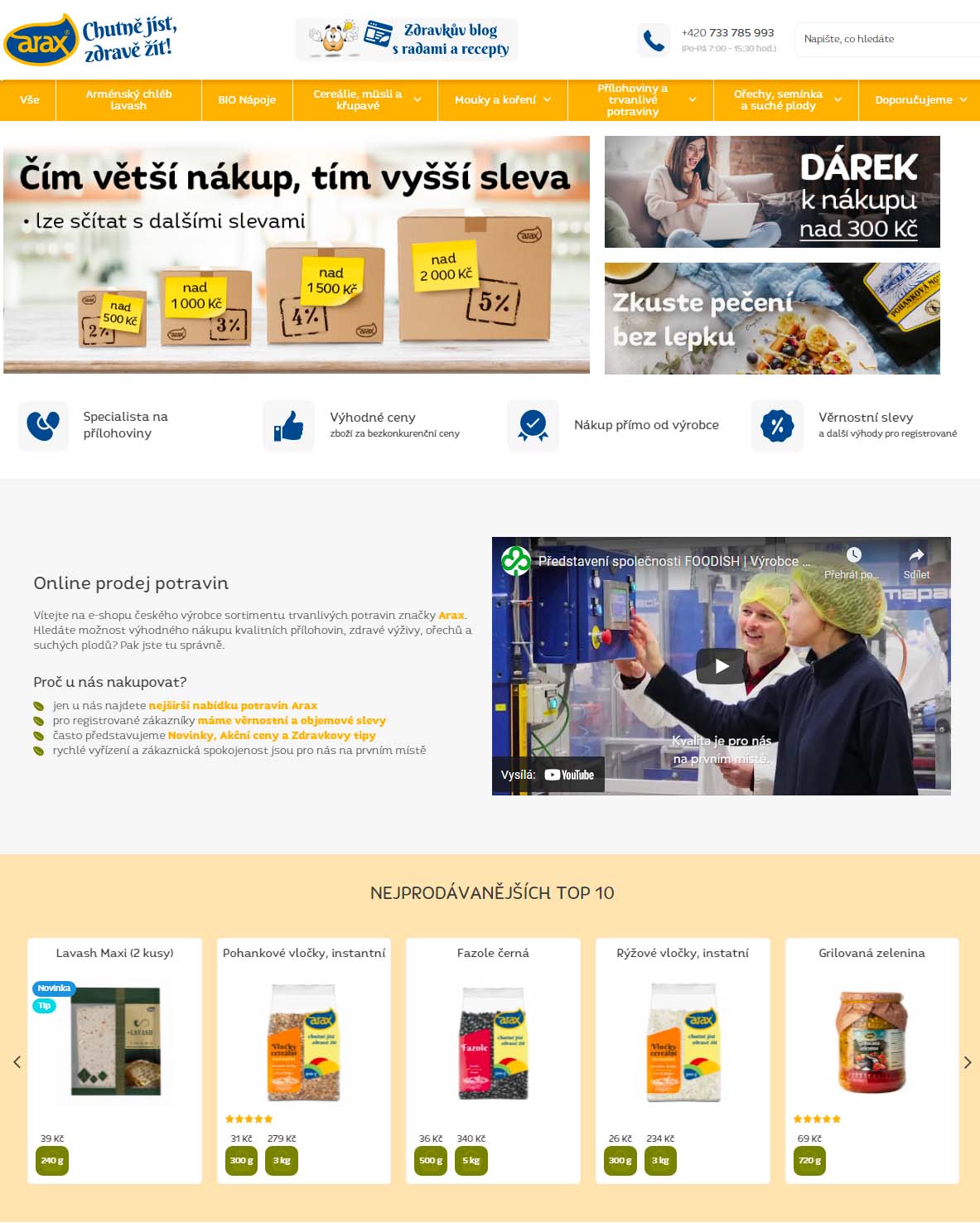 Product range Retail trade

We care about our customers and we are happy when they appreciate our goods in their daily use in their homes. Eating a healthy and a balanced diet does not have to be complicated or expensive. Less is often more. A simple, honest and lovingly prepared diet from quality ingredients is the alpha and omega of your health.
Take advantage of the comfort of your home and order foods that should not be missing in any household. You can stick to the products you already know or you can let your imagination run wild and experience something new.
What we can arrange for you

Raw material packaging

wholesale cooperation under private label

NOXY - bio-organic fumigation
Packing of raw materials
Arrange favourable conditions for private label cooperation with us. For more details, please contact the sales department.
Wholesale cooperation under private label
Arrange favourable conditions for private label cooperation with us. For more details, please contact the sales department.
NOXY – bio-organic fumigation
The solution we offer is called NOXY (No Oxygen). The technology lies in wrapping the food with a vacuum in a modified carbon dioxide atmosphere. CO2 is a gas suitable for this technology because insects, pests and their germs, as well as micro-organisms such as moulds, fungi and aerobic bacteria, are very sensitive to high concentrations of this natural gas, which is normally only found in the atmosphere at a concentration of 0.04%.
Benefits:
lower economic losses due to longer storage and shelf life
several times longer shelf life due to:
– Elimination of pests and their germs
– Reduced growth of microorganisms
– Disruption of degradative chemical reactions, including oxidation, colour degradation and loss of nutritional value
– No need for chemical preservatives and fumigants